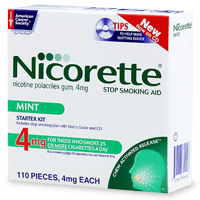 Click here to buy Nicotine Chewing Gum now
How does Nicotine Chewing Gum work?

Nicotine chewing gum is a temporary aid for smokers who want to quit smoking. It is used as part of a type of medicine - Nicotine Replacement Therapy or NRT - and many smokers use nicotine chewing gum to help kick the smoking habit.
Nicotine chewing gum works in two ways. It helps to break the physical addiction to nicotine by relieving the withdrawal symptoms associated with giving up. And it can break the psychological need to 'have a cigarette' by reducing that urge to smoke.
What does it do?
When you chew nicotine chewing gum, a small amount of nicotine is released into your bloodstream via your mouth. This amount is much smaller than that in a cigarette, and considerably safer, bypassing the lungs and cutting out the harmful chemicals found in cigarettes. By giving your body a small amount of nicotine, unpleasant withdrawal symptoms like tingling, headaches, insomnia, mental confusion, irritability, anxiety, depression, and lack of concentration are alleviated. This can help you to function better during the difficult giving up smoking period, and allows you to concentrate on breaking your smoking habit.
The psychological need to smoke is also reduced by using nicotine chewing gum. By reaching for the gum instead of a cigarette whenever you have a craving, the urge to 'have a smoke' will gradually disappear.
How to use nicotine chewing gum
Chewing nicotine gum works by releasing nicotine into your bloodstream. The best way to do this is by chewing the gum slowly. The gum will develop a peppery flavour. Once the taste of the gum becomes strong, or you feel tingling, place or 'park' it between your cheeks and gum. Every time the taste or tingling fades (usually about a minute), repeat this, until the gum has lost its flavour, which should take about half an hour.
Remember, it's not quite like chewing regular gum! You should not chew the gum too fast, or more than one piece at a time. Do not chew one too soon after the other.
When you first start using nicotine gum, chew it whenever you feel the craving for a cigarette. Do not to exceed the packet directions. After two to three months you should start to reduce your use of nicotine gum, and by six months it should be stopped.
What type of nicotine gum should I start with?
Nicotine gum comes in two strengths - 2mg and 4mg. Deciding which one to use is simple -if you are a heavy smoker (you smoke more than 25 cigarettes a day) you should start with the 4mg. If not, start with the 2mg strength.
How much nicotine chewing gum should I be chewing?
The amount of gum you chew depends on your smoking habit. If you smoked a lot, or smoked stronger cigarettes, then you will feel the need to chew more gum.
It is recommended not to use more than 30 pieces a day using the 2mg strength, and 40 pieces a day if you are using the 4mg strength.
It is important to never exceed the amount recommended on the packet.
Buy Nicotine Chewing Gum online at low prices from pharmacy discounter. Order Nicotine Chewing Gum