Diabetic Meter Test Strips - to monitor blood glucose levels. Buy online at low prices from PharmacyDiscounter.com.
- FREE DELIVERY -
Advantage II - Roche - Test Strips

Esprit - Glucometer - Bayer - Sensor Disc



The Advantage II test strips are the latest design in strip technology. They're easy and very comfortable to use, with the Comfort Design that matches the shape of the finger. Plus, the Advantage II testing strips have these extra advantages:
- Small blood sample - the Advantage II testing strips require only 4µL of blood.
- Capillary action - with the Advantage II testing strips, blood is automatically drawn into the test window. Just hold the finger to the edge of the yellow test window and the strip does the rest.
- Easy to handle - the Advantage II test strips come in an easy-to-open and compact vial. And they're easy to use - the "finger shape" fits for extra ease and comfort and the test area is easier to reach - it's on the very edge of the strip. Second chance means less wasted strips If necessary, additional blood can be applied to the strip within 15 seconds of the first drop.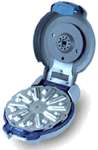 The Bayer Glucometer ESPRIT diabetic blood glucose monitoring system makes good diabetes control easier than ever. Esprit is simple and convenient to use - needing only the smallest amount of blood. The Glucometer ESPRIT Blood Glucose Monitoring System has a unique 10-test sensor disc eliminates the need to handle fiddly, individual test strips.