Nicorette Inhaler (Inhalator)
Buy Nicorette Inhaler from Pharmacy Discounter. Click here to Buy the Nicorette Inhaler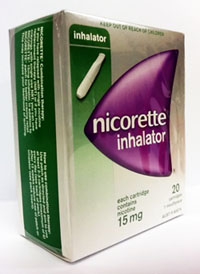 The Nicorette Inhaler (Inhalator) combats the habit of smoking, as well as the physical addiction to nicotine. The Nicorette Inhaler is designed to be held like a cigarette, so this keeps your hands busy too – just like a cigarette. When you puff on the mouthpiece, the cartridge releases nicotine to help relieve your craving.

The Nicorette Inhaler (Inhalator) lasts for 40 minutes of continuous use with deep inhalations or shallow puffing, after this you will have used all the nicotine in a cartridge, and need to replace the cartridge in the Nicorette Inhaler.
Do not try to make one Nicorette Inhaler cartridge last all day. Although every smoker is different, the most successful quitters frequently use an average of six cartridges per day.
The full course for using Nicorette Inhaler (Inhalator) lasts around 16 weeks, from quitting cigarettes to no longer requiring Nicorette.
During that time, you should gradually reduce your intake of nicotine, until you can do without it. It is recommended to use Nicorette Inhaler for 12 weeks at a constant rate of about six to twelve cartridges per day. Then reduce the use during the next four weeks, from three to six cartridges in the first two weeks then in the final two weeks use only one to three cartridges.
Instructions for use:
Nicorette inhalator 15mg nicotine 20 cartridges
Nicorette inhalator is a quit smoking aid. Nicorette inhalator works by relieving nicotine cravings and withdrawl symptoms. It may be used to:
1. Stop smoking abruptly, or, 2. Cut down smoking before stopping.
Who can use it?
Adults 18+ who smoke more than 10 cigarettes per day.
How many inhalators do I use?
1. Stopping immediately.
During weeks 1-12
1 Cartridge when you have an urge to smoke or every 2-4 hours.
For best results use 3-6 cartridges/day
After 12 weeks
Gradually reduce to 1-2 cartridges a day then stop use.
Use beyond 12 months is not recommended.
2. Cutting down
Gradually increase inhalator use (maximum 6 cartridges/day) and reduce smoking with the aim of stopping by 6 months. If you have not cut down at 6 weeks or stopped at 9 months, see your doctor/pharmacist.
Use in adolescents under professional supervision only.
Note. Read pack insert before use.
How to use.
1. When you have cravings inhale through mouthpiece as required.
2. Continue for up to 40 minutes. Replace cartridge.
Do not use if you are
- allergic to nicotine or menthol
- under 12 years of age
Ask your doctor/pharmacist before use if you are:
- pregnant or breast feeding
- under 18 years of age
- taking any other medications
Do not use unless a doctor has told you if you have
- had a stroke or heart or circulation problems
Ask your doctor/pharmacist before use if you have:
- asthma
- chronic throat disease
- uncontrolled high blood pressure
- a stomach ulcer
- kidney or liver disease
- to take insulin for diabetes
- an overactive thyroid
- adrenal gland cancer
Click here to Purchase Nicorette Inhalers online from Pharmacy Discounter