Natural Glamour
Click Here to Buy Natural Glamour now.
Natural Glamour helps balance your complexion and gives skin a natural healthy glow in just a few moments. The unique formula of Natural Glamour has enjoyed over 10 years of success as a best seller in pharmacies throughout New Zealand.
Natural Glamour products are incredibly quick and easy to apply for an amazingly wonderful effect. What's more, the products are excellent quality, and well priced. Each product from the range is attractively packaged and includes its own makeup applicator. Depending on what you are doing and where you are going you can choose to apply the 3 in 1 foundation – in light, medium and dark skin tones, a pressed powder in summer and winter tones or just dust on one of the two shades of loose powder on your face and neck with the gentle brush provided.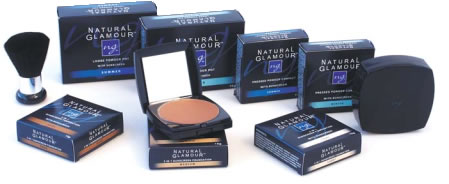 The entire range leaves your face looking healthy and radiant. The 1000s of luminous spheres within each pro- duct reflects light enhancing your skins own natural glow. This make up offers great coverage, yet the foundation & powders are so cleverly formulated they leave your skin feeling fresh and makeup free. Natural Glamour also helps protect your skin from sun damage. The foundation has an SPF 30 rating and the pressed and loose powders are SPF 12.
For Glamourous day or evenings out in strapless, strappy or halter neck garments, the loose powder is invaluable to camouflage bather marks, watch or rings marks. They quickly disappear when you apply brushstrokes of the loose powder. A dusting of the loose powder over your face, neck, shoulders and cleavage also helps even out skin tone and gives you a subtle sun-kissed look.
Click here to purchase natural glamour